Ever wondered how important your words were?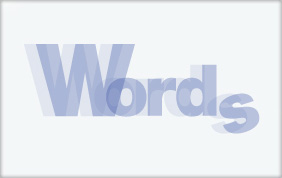 You've probably heard the expression "content is king" when it comes to the internet and, let's face it, the internet has become one almighty vacuum that continues to suck up all that we are and all that we do – business, emails, socialising (facebook/twitter/myspace), banking, news, hobbies, blogging, travelogues, information, services, entertainment … get the picture? The internet plays a big part in our lives and there's no escape.
The internet is mostly a visual experience for everyone, so words have never been more important and must be handled with care. We write to communicate, socialise, express opinions, promote and ultimately deliver results for our business. Copywriting has become a key component of website design and development and achieving effective SEO, so great writing involves strategically producing words that promote a business, person, product or idea with the aim of making the reader become involved.
So, whether you're looking to sell something, attract a large audience, or build traffic and achieve high web rankings by scoring links from other sites, the key is to tell a compelling story that connects for the ultimate result – and that is getting readers to respond exactly how you want.
Good luck!
Scott Podmore
Founder/Managing Director
October Grey Media
< Back